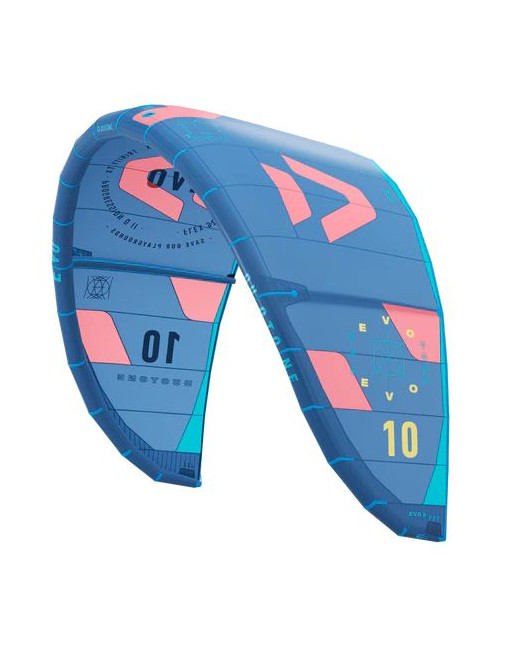  
Duotone Evo 2023
The perfect kite for riders who want to have it all, the Evo is amazing for: throwing big jumps, freeriding, hooked freestyle and wave riding. Packed with features and easy and intuitive to fly, it will allow you to progress in your riding with confidence.
Política de envios
Entregas entre 48h y 10 días dependiendo del país.
Política de devolución
Hasta 15 días con derecho de devolución.
The Evo is one of the most popular kites on the market, and the reason is obvious. This three-strut all-rounder has been developed to offer enormous features with easy access. It is the perfect kite for riders who like to freeride, take huge jumps, or those who want to do some hooked freestyle or occasionally play in the waves. The Evo can do it all! Its big air capabilities make it the kite of choice for professionals and beginners alike; If you're trying to learn your first jumps, the kite makes it easy. Providing excellent lift out of the water, the lift time will make it look like you're floating, and if you want to kite loop, the only limit is your bravery. From small tight loops, to full mega loops, the Evo has it all. With multiple adjustment options at the ends, a true adaptation of the kite to your riding style is possible. Of course, the Evo is built to the highest standards: with the Trinity TX and Dacron frame, you get a lightweight, high-performance kite that is extremely durable. Perfect for beginners, professionals and everyone in between, this is one kite you will never outgrow; keep performing at every step of your kiteboarding journey. Don't let your kite define you, let your way of sailing speak for you; whatever style you choose, take it to the next level with the Evo.
No customer reviews for the moment.